KEYS TO UNDERSTANDING HIGH-PERFORMANCE ROOFING
Several factors differentiate a high-performance roof from a roof that is just ordinary. Each of these five factors is critically important to consider when selecting a roof — whether for new construction or for a re-roofing project. Please click on each number below for more information about each of the five criteria of a high-performance roof.

Refectivity/Emissivity

Durability

Proper Membrane Selection

Proper Installation

Maintenance

Reflectivity / Emissivity
These two elements of a "cool roof"are the two attributes that get the most ink. Yes, a high solar reflectance, or albedo, and infrared emittance (the proper scientific terms) will result in a cooler facility, cooler city, and cooler planet. To qualify as a cool roof, experts suggest picking a membrane with a reflectance of at least .65 and emittance of at least .85.
Durability
What's the point of claiming your roof is high-performance if you have to replace it long before its expected lifespan. Here's a loosely guarded secret: Short-term, cheap roofs are NOT high-performance. Indeed, durability is perhaps the most critical element in a high-performance roof system. Be sure to choose a roof from a trusted manufacturer that doesn't play games with its warranty. And find out if the roof can be recycled at the end of its useful life — while not necessarily a component of high-performance, a roof's recyclability certainly enhances its sustainability.
Proper Membrane Selection
Single-ply membranes are a good high- performance roofing option for many building types and situation. A few examples include when re-covering an existing membrane, when the building is wide open with large expanses of uninterrupted roof area, when installing a green roof on top, or when the roof needs to be installed in cold weather. But it's always critical to follow manufacturers recommendations. Matching a good membrane to a suitable roof is an absolutely essential step to achieving a high-performance roof.
Proper Installation
Perhaps no other factor can have a more detrimental effect on the performance of a roof than poor installation. Get at least three bids from qualified contractors that are approved by the manufacturer of the membrane you're interested in. Visit the sites of their other jobs and talk to those facility managers about their experience. Understand that the manufacturer's warranty usually only covers material defects, so find a contractor that will offer a solid workmanship warranty, as well. And monitor the job - make sure the contractor sends an experienced foreman and completes the job on time but without cutting corners.
Maintenance
A high-performance roof is not a set-it-and-forget-it proposition. Far from it. To get the most out of a roof, it requires regular attention. Experts suggest at least twice-yearly inspections, in the spring and fall. To continue to maximize a cool roof's efficiency, periodic cleanings may be necessary as well. One of the keys to maintaining a high-performance roof is to record when inspections and maintenance have been performed - treat the roof like you would any other facility asset.
Long gone are the days when roofing was merely roofing, designed to turn back rain and snow and nothing more. Increasingly, all building components, including roofing, are considered for their environmental and long-term performance characteristics.
Now, the performance of a roof can be measured in terms of heating and cooling loads, environmental attributes, and even worker productivity. When facility managers factor in the cost of tear-off and replacement, suddenly performance — and its effect on the life-cycle cost of the roof — takes on a whole new meaning. It's not simply a matter of considering up-front capital costs and subsequent operating costs.
Instead, it's total cost considerations, from origin, to longevity, to recycling the material upon tear-off and replacement.
That's why facility managers are increasingly considering high-performance single-ply roofing.
Sustainability and Re-use
The chemical characteristics of PVC manufacturing make it a sustainability darling among manufacturers and building owners alike. Because it can be almost universally re-used after tear-off, it helps owners save money, and helps manufacturers promote the inherent sustainability.
"Sustainability attributes of all components for the entire system should be considered, including film production, reinforcement scrim, fabrication scrap, flashing parts and accessories, shipping materials and methods, installation components, fasteners, and so on," says Ballensky. "This is more than just a consideration of direct product attributes. It involves a deeper look into the facilities and activities that are utilized in the production and delivery of the system."
According to manufacturers, the following items that might ordinarily be considered suitable only for landfills can be re-used:
Reinforcement scrim and film production: polyester yarn tailings can be saved and recycled; vinyl film edge trim can be routed back into the film production; laminator trim and scrap can be reground and used in other products
Fabrication plant scrap: materials can be collected and reground for use in products like roofing walkpads, flooring, and concrete expansion joint products
Component fabrication: roof flashing components can be fabricated from portions of material scrap; roof system fastening plates are made from post- consumer recycled components
Shipping: cardboard cores used for rolled membrane products are made from recycled material and can themselves be recycled; undamaged pallets used for receiving and shipping goods can be returned for re-use; foam cradles used for holding rolls of material can be re-used and/or re-cycled;
Post-use reclamation: post-consumer roof materials can be reground and recycled
One example is PVC roofing. It's a membrane, using a single layer of polyvinyl chloride that is hot-air welded for seamless, monolithic roof coverage. And if the roof is mechanically fastened, it garners higher environmental scores due to lower VOCs off-gassed during installation, according to Karen Warseck, president of Building Diagnostics Associates.
Additionally, PVC's high reflectivity and thermal emittance characteristics provide energy savings, mostly by preventing solar loads from entering the building and increasing cooling costs.
But it's not just about cooling: A high-performance roof increasingly requires owners to consider total lifespan of all roofing materials.
The sun's rays have a significant impact on the life of a roof system, says John D'Annunzio, president of Paragon Roofing Technology. "At the simplest level, maintaining a cooler surface temperature means less heat-related expansion and contraction, and therefore a longer roof life."
Other characteristics that make up a high-performance roof that building owners should consider, according to Drew Ballensky, a general manager at Duro-Last Roofing, include the following:
PVC membranes generally exhibit a low-carbon footprint when compared to products like TPO or EPDM. A typical PVC roof may have only 44 percent carbon versus almost 100 percent for EPDM or TPO.
Pre-fabrication can reduce jobsite waste. Given the ease of welding, some PVC membranes are prefabricated specifically for each job, creating less on-site scrap and - in theory - reduce the disruptions to the facility a re-roofing job may cause.
Importantly, PVC is recyclable, meaning virtually no fabrication scrap goes to landfills, and membranes at the end of their useful life can be reclaimed and recycled.
Because PVC membranes contain a chlorine component, they are inherently fire resistant, making it much easier to achieve Class A fire ratings than with some other membrane systems.
PVC roofing works well as the waterproofing component of rooftop photovoltaic systems; as a result, building owners can have high albedo ratings with a photovoltaic system that further reduces energy loads.
If an owner's organization supports vegetative systems, PVC can make a sensible underlayment choice, mostly due to its waterproof characteristics.
For facility executives who place a premium on life-cycle costs, some PVC installations have lasted more than 30 years.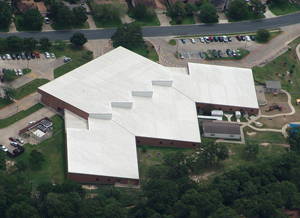 Duro-Last Roofing, Inc.
The biggest benefit, however, to PVC roofing is reflectivity; because of the high albedo of PVC roofing, plenum insulation can be up to 45% more effective. Without the high temperatures of solar loading on the roof deck or into the plenum, rooftop insulation stays cooler and more effective.
That said, proper research should be conducted prior to the installation of insulation, according to D'Annunzio. "A dew-point calculation should be conducted based on the building's interior use to determine the correct thermal R-value prior to application. This can help a building avoid condensation issues."
By extension, HVAC equipment can operate more efficiently on cooler rooftops, too.
Another way owners can help boost longevity and performance is to ensure the specified thickness of the membrane meets manufacturer warranty requirements, says Warseck.
"Generally, thicker membranes also mean longer lifespans," she says.
Perhaps just as important, substrate deterioration can be significantly slowed. High-performing roofing options slow UV and infrared radiation, helping substrate materials last much longer and saving replacement costs.
And replacement costs should be weighed carefully. The best roof sloppily installed is worth little to an organization.
"Check to be sure the are enough qualified and competent approved applicators' locally available," suggests Warseck, "so that [owners] are not limited to bidding to one or two firms or, worse, if that relationship sours, finding someone to do repairs."
A large percentage of premature roof failures occur due to improper workmanship," warns D'Annunzio. "Quality applications require skilled workmen who are familiar with the materials that are being applied. The system applicators should be properly trained to apply the materials in compliance with the manufacturers requirements."
That helps make a roof truly sustainable.